Jason Manford's New Game Show 'Big Heads'
WATCH: Jason Manford's New Game Show 'Big Heads' Is Brilliant, Bizarre Telly
It's a little big 'It's A Knockout', A little bit 'Spitting Image' – and 100% good fun!
It's a certainly an odd concept for a game show, but Jason Manford's new Sunday night programme Big Heads has been a real hit!
The photos from the hour-long light entertainment extravaganza are eye-catching, to say the least. It's a pretty straightforward show: members of the public go head-to-head in a series of It's A Knockout style physical challenges. The only catch is that they have to do it while wearing – you guessed it – big heads that disguise them as well-known public figures.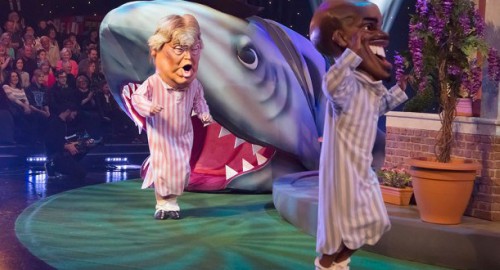 (Credit: ITV)
Among the roll-called of 'Big Heads', you'll find the likes of Simon Cowell, Mo Farah, Donald Trump, Adele, Benedict Cumberbatch, Russell Brand and even Elvis Presley.
If you look back with fondness on the light entertainment glory days of Gladiators or Total Wipeout, this could be the show for you, as it's sort of a modern-day update of those family friendly game shows. Only, erm, a bit more surreal.
(Credit: ITV)
With its bizarre depictions of household names, Big Heads is also a little reminiscent of Spitting Image, the satirical puppet show that sent up celebs in the '80s and '90s. (Incidentally, Spitting Image is set to make a return to telly with a reboot reportedly launching on Sky in the future.)
Basically, if you've ever longed to see a nightie-wearing Donald Trump chased by a giant foam shark, your televisual dreams have been answered.
Check out this clip of Simon Cowell running against a conveyor belt to try and get into a nightclub….
(Credit: ITV)
Host Jason Manford is under no illusions about the loveable daft nature of his new project, having spoken about its silliness. The funnyman said: "At no point is anyone on this show saying, 'This is the greatest spectacle you've ever seen in your life, this is going to change lives'. We're literally going, 'For an hour, let's have a laugh at people falling over with massive heads on'."
He added: "If you like that, that's what it's about. If you don't like that, you need to have a long hard look at yourself."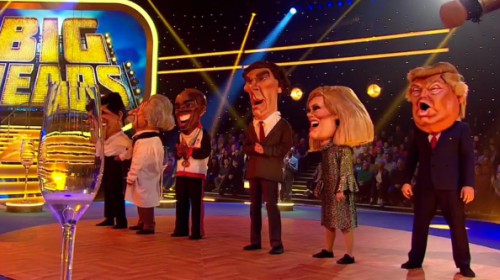 (Credit: ITV)
Well said, Jason!
The Mancunian comedian had more to say about the show after its first episode aired on ITV last night. "Britain," he wrote on Twitter, tongue firmly in his cheek, "you should be ashamed of yourself! #bigheads is the number 1 trending topic! #newlow."
And he wasn't the only one talking about Big Heads on Twitter. These telly nuts were absolutely loving it and Jason was quick to retweet their praise…
Big Heads airs on ITV at 7pm on Sunday nights, and life will never be the same again.
Read more at http://www.heart.co.uk/showbiz/jason-manford-new-itv-show-big-heads/#1qKIMiLFSSbOEYju.99
http://www.heart.co.uk/showbiz/jason-manford-new-itv-show-big-heads/#1EzA9Oj4ME6wrw6t.97